If the auto industry is a 10, how would you rank the elevator industry?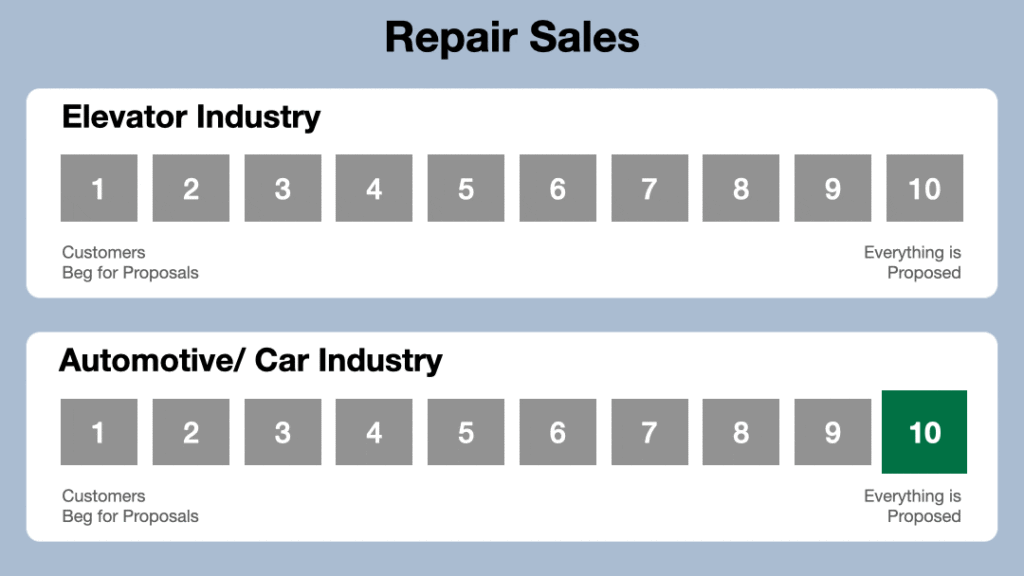 Car repair shops propose 100% of the sales opportunities they see.
But in the elevator industry…customers beg for proposals. A small % of opportunities are proposed.
Building managers, owners, and elevator consultants complain about this (sometimes in public and on LinkedIn). They wish it was easier to spend money on improvements.
This is a dream problem to have 🤩
If you're responsible for elevator repair sales, you could make a lot more money. You could make elevators safer, more reliable, and (since the bar is set so low)….you could delight your customers by offering more ways to spend money.
But, this is easer said than done.
The automotive industry has a unique advantage. The car is brought to the shop. The sales team, mechanics, parts people, and their desktop computers are right next to the car.
Could you image if elevators and escalators were brought to the shop…maybe it would solve this problem.
Since we don't have the luxury of elevators coming to the shop – we need a solution.
ElevatorZip is the solution.
There's no setup. It's ready out of the box – so you can try it today.
If you're interested in seeing exactly how this problem is solved, schedule a demo now.